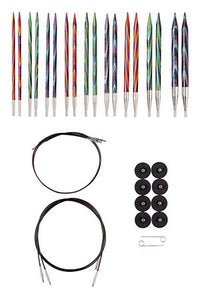 Knit Picks Interchangeable Needle Set - Mosaic Wood
Mix and match knitting needle tips with cables to easily create the circular needle that you need for your next project, while enjoying a dazzling selection of beautiful colors.
These Mosaic needles give you the usual strong and smooth layers of laminated birch in every color you could want. And the distinct sequence of colors will make finding the right needle size easier than ever.
Featuring smooth joins, perfectly tapered tips and flexible cables, this set includes 9 sets of 4-1/2" tips in bright colors and 2 sizes of cables - all of which are stored in a handy vinyl case. Two small cable keys are included, which allow you to tighten your needle tips to the cables. Working on multiple projects that call for the same needle size? Use the included end caps to safely store your project as you start the next.
Set Includes
---
Wood Knitting Needle Tips
9 total - US Sizes: 4, 5, 6, 7, 8, 9, 10, 10.5 and 11 (3.5, 3.75, 4, 4.5, 5, 5.5, 6, 6.5, and 8 mm)
Black Cables
4 total - 2 each of 24" and 32" lengths
Accessories
9" x 5" snapped clear vinyl needle case, 8 black end caps, and 2 cable keys
---
We Also Recommend
---