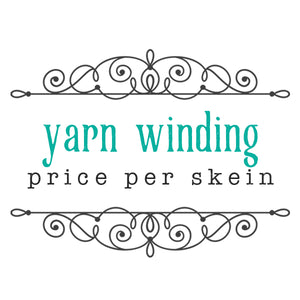 Yarn Winding Service - PER SKEIN
WINDING SERVICE IS
PER SKEIN
If you don't have a ball winder and swift, and are tired of rigging up a winding system, we can do it for you!
Select from the drop-down how many skeins you are purchasing and want caked up. If you are buying 1 skein, choose a quantity of 1 in this listing. Buying 3, choose 3. Easy peasy.
If you buy 3 skeins, and choose 1 here, well...You'll end up with 1 caked and 2 in skeins, and that's awkward!  So please be sure to match the quantity to the amount of skeins you purchase.
If you only need part of your order caked up, choose the appropriate quantity for winding and send us a quick message to let us know what you need.
---