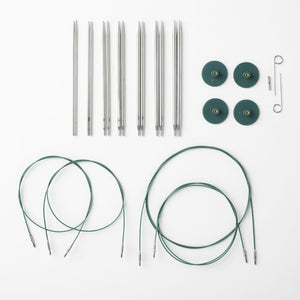 LACE / SOCK - KP Interchangeable Needle Set - Stainless Steel
The convenience of interchangeable needles has arrived for sock and lace knitters with the NEW Reflections Lace Options Interchangeable Needle Set in stainless steel! We absolutely love these and were so excited when they released them... we've been waiting for something like these for ages! They are a wonderful & budget-friendly alternative to other stainless steel tips/cords that are on the market.

Set Includes:
Reflections Options Interchangeable Needle Tips
(Needle tip length is 4")
US Sizes: 0, 1, 1.5, 2, 2.5, 3, and 4 (2.00mm, 2.25mm, 2.50mm, 2.75mm, 3.00mm, 3.25mm, and 3.50mm)

Two 24" length and one each of 32" & 40" lengths
The sizing of the cables refer to the total length achieved when the needle tips are attached to the cables.
Accessories
Snapped clear vinyl needle case, 4 end caps and 2 cable keys

INFORMATION (from Knit Picks):
Knit Picks Reflections stainless steel needles are slick, sleek, and surprisingly lightweight. Reflections needles have 100% stainless steel needle tips with hollow construction that warms slightly without getting hot, and we didn't stop there with the steel! The threaded cable joins are also 100% stainless steel* and attached to nylon-coated steel cord cables, making this the ideal Options IC set for metal needle lovers. And as always, Reflections stainless steel needles are designed with the same smooth joins and perfect points you've come to expect from Knit Picks needles.

Mix and match tips with KP's new cables to create the perfect circular needles for your projects. The new signature green cables are now stronger than ever with a sturdy, nylon-coated steel cord. The new cords have the perfect amount of flexibility to avoid twists and tangles, and just like with our other cables, the smooth cable join lets your stitches slide around your knitting needles with no snags while the long threaded join ensures that your cables and knitting needle tips stay securely in place.

This set includes 9 nine needle tips, 4 sizes of green cables, and cable connectors - all of which are stored in a handy vinyl case. Two small cable keys are included, which allow you to tighten your needle tips to the cables. Working on multiple projects that call for the same needle size? Use the included end caps to safely store your project as you start the next.


Please Note:
The Lace Interchangeable tips and cables are not compatible with standard or Shorties Interchangeable tips and cables.
* The stainless steel used in these needles does contain a minute percentage of nickel, for hardening and rust prevention. However, it does not contain an amount that should elicit nickel contact dermatitis.

---
We Also Recommend
---